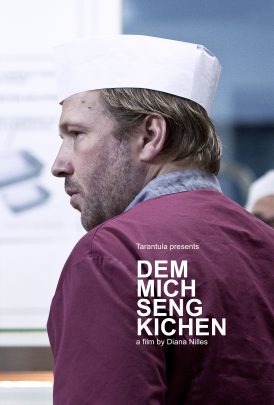 Mich's kitchen
A film by Diana Nilles, 2017
-
Genre: Drame
Languages: Luxembourgish
Subtitles: French / English
Format: xxx
Sound: xxx
Duration: 15 min
Country: Luxembourg
Year: 2017
SYNOPSIS
-
Down-and-out Mich (45) is working in a soup kitchen when Fadi, a Syrian refugee, causes some disturbance by cutting the line. When Mich's bag disappears that same day, he begins to suspect Fadi. In a haze of alcohol and spurred on by his friends, Mich wanders the streets in search for his bag.
CREDITS
-
Director : Diana Nilles
Screenplay : Diana Nilles & David Henrichs
DOP : Nikos Welter
Decors : Ulrika Debatisse
Costumes : Carine Cerglaski
Make-up : Meva Zabun
Editing : Amine Jaber
Cast : 
Mich : Jules Werner
Fadi : Ramzi Choukair
Tom : Ivo Moraschini
Luc : Mike Elcheroth
Jemp : Michel Tereba
Jerry : Ben Scheltgen
Francine : Martine Kohn
Thierry : Georges Nixon
DIRECTOR
-
Born in Russia and raised in Luxembourg, Diana holds a BA in Drama and English from Royal Holloway University, an MA from Queen Mary University in English Literature and Politics as well as a Filmmaking MA from the London Film School. Additionally, she has lived and volunteered in Thai Mueang (Thailand) for 6 months, teaching English. After graduating, Diana worked as a freelance writer and director for documentary and fiction projects in London and Luxembourg. As a Film Director, Diana predominantly wishes to make social realist films, always pushing boundaries to show the lives and issues of real people in order to create socially challenging stories that have an impact on the societies we live in.