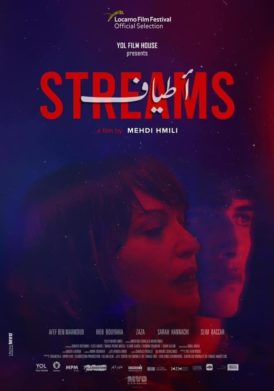 Streams
A film by Mehdi Hmili, 2021
-
Genre: Social Drama
Languages: Arabic
Subtitles: French / English
Format: HD
Sound: 5.1
Duration: 120 min
Countries: Tunisia, France, Luxembourg
Year: 2021
SYNOPSIS
-
Amel, wrongly accused, is released from prison after a case of adultery and prostitution. In the underworld of Tunis, she searches for her missing son Moumen. In the course of her journey, Amel comes face to face with a Tunisian society in free fall.
CREDITS
-
Script : Mehdi Hmili
Director : Mehdi Hmili
Image: Ikbal Arafa
Sound: Aymen Labidi, Maher Abbes, Nicolas Leroy, Angelo Dos Santos, Michel Schillings
Decors: Nahla Smati
Costumes: Emna Barhoumi
Make-up: Hajer Bouhaouala
Editing: Ghalia Lacroix et Hafedh Laridhi
Music: Amine Bouhafa
Cast : 
Ben Mahmoud Afef, Iheb Bouyahia, Zaza, Sarah Hannachi, Baccar Slim, Noomen Hamda, Fakher Wahchy.
Produced by Yol Film House (TN)
Co-produced by MPM Film (FR) & Tarantula Luxembourg.
Sales Agent for Arabic countries : Mad Solutions
FESTIVALS
-
Locarno Film Festival 2021
Official Selection - Concorso Cineasti del presente

Zurich Film Festival (Switzerland)

Mostra de València – Cinema del Mediterrani (Spain)
DIRECTOR
-
Mehdi Hmili is a Tunisian director, screenwriter and producer. He studied cinema in Paris. He directed three short films in France about love and exile, X-Moment, Li-La and The Nuit of Badr. In 2016 he released his first feature film Thala Mon Amour, a love story that takes place during the Tunisian revolution. He co-founded Yol Film House with Moufida Fedhila in Tunis and produced several award-winning fiction films and documentaries in several international festivals. In 2019, he participated in La Fabrique of Cinémas du Monde at Cannes Film Festival with the feature documentary Fouledh. He has just finished his second feature film Streams which will be released in 2021. Mehdi Hmili is part of the new wave of young Tunisian filmmakers and he is a major figure in the current Tunisian cinematographic landscape. His production company Yol Film House plays an active role in supporting Tunisian talent and its productions have strong potential for co-production and international distribution. Mehdi Hmili is a Torino Film Lab Alumni. He lives and works between Tunis and Paris.