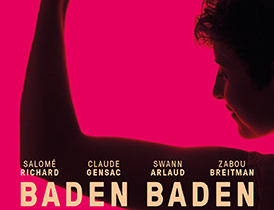 "BADEN BADEN" WILL BE RELEASED IN CINEMAS FROM 11 MAY 2016
-
After a bad experience on the shooting of a film abroad, Ana, a 26-years-old Frenchwoman, tries to get her life together when she returns to her hometown of Strasbourg.
During a scorching summer, she helps install a walk-in shower for her elderly grandmother, eats peas and carrots with ketchup, drives a Porsche, loses her driving license, sleeps with her best friend and considers rekindling an old relationship.
This summer, Ana tries to deal with life.
Find the film in these cinemas:
Bruxelles — Aventure
Malmedy — Movie Mills
Luxembourg — Caramba
Liège — Les Grignoux
Namur — Le Caméo
Leuven — Zed
Mons — Plaza Art
Virton — Ciné Patria
VIDEO
-

Warning: Use of undefined constant video_1 - assumed 'video_1' (this will throw an Error in a future version of PHP) in /home/clients/21fad922ace3ab443932632f2260693a/web/wp-content/themes/tarantula/single-new.php on line 56