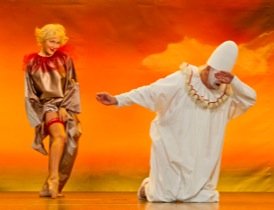 "Clownwise" : New Tarantula production!
-
Tarantula launches into the production of the third feature film from Czech director: Viktor Taus. A moving comedy that proves that it is literally impossible to be afraid if one can laugh…
Produced by Tarantula Luxembourg, Fog'n'Desire (Czech Republic), Sokol Kollar (Slovakia) et Kinosto (Finland), « Clownwise » get together with Julie Ferrier, Didier Flamand, Kati Outinen, Jiri Labus and Oldrich Kaiser. The shooting started yesterday will be in Luxembourg, Finland and Czech Republic.
Oskar, Max and Viktor, once a superstar clown trio, which split up over a never forgiven heart-rending fight, are now paying the price of 40 years of separate grueling lives on and off the stage. Their irresistible sense of humor is challenged by fear of death, cancer, family dysfunction and other joys of old age. They're about to risk everything to find out if there's one more show left in them. On the verge of the very end, they're brought together one more time, facing the hardest challenge yet: forgiving one another.