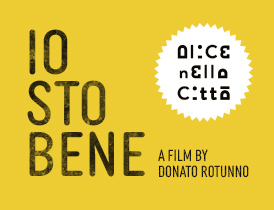 "IO STO BENE" selected at Alice nella città in Rome!
-
Tarantula is very happy to announce the selection of the new film by Donato Rotunno: IO STO BENE, in Rome, at Alice nella Città, italian section.
« Io sto bene » was produced by Tarantula (Luxembourg & Belgium), in co-production with MaxMa Film (Germany), Vivo Film (Italy), ARTE and VOO-BeTv. The third feature film by the luxemburgish director has been support by Film Fund Luxembourg, Wallimage, MFG, MIBACT and Apulia Film Commission. International sales are handled by MPM Premium.
The film was shoot in automn 2019 between Luxembourg, Belgium and Italy. The cast is gathering Renato Carpentieri and the rising stars of Italian cinema Sara Serraiocco and Alessio Lapice. On the Luxemburgish side, Marie Jung, Tommy Schlesser, Pitt Simon, Nicole Max, Gabriel Boisante and Jules Werner are completed the casting. The original music is composed by Massimo Zamboni. Author, composer, singer and guitarist, he is considered as the father of alternatif italian rock and italian punk rock. Some titles from his band, CCCP, are in the soundtrack of the film too.
The film will be screened on October 15th at 8.30 pm at Carravagio Theater in Rome. A press conference with cast and crew will take place at 2.30 pm. More info here.